As soon as I started working at atLarge I felt that I had found my people, my family. The culture here is open, always evolving, and if you look down too long you might find that the current has changed yet again with the flow of information. It's an open line of communication through all, and with a tight knit family of co-workers I wasn't surprised to find out that one of our engineers, Michael, coincidentally had family in Ohio. 
"I have family from Mingo too, actually my mom's dad grew up there,"
Ever the eavesdropper, I overheard Mingo Junction and my ears instantly pricked up. Mingo Junction is a small steel worker's town in the-middle-of-nowhere, Ohio. A spec on the map. For it to come up in a conversation was remarkably rare so naturally my interest was peaked. 
Mingo being such a small town, we swapped our families' last names. Surely someone knew someone. We verbally listed all the names that we knew of, and while a few names sounded familiar it wasn't until we got to my grandfather's last name something clicked. 
Michael's mother had recently been researching and reconstructing their family tree. A chain of texts later and sure enough my grandfather's last name popped up on their tree. It wasn't complete, however. There are plenty of other Italians with my grandfather's last name. It could have been coincidence. But then again, Mingo was so small. It could have been a cousin, a nephew, or an uncle. Regardless, Michael and I jokingly called each other cousin, I'm sure neither of us thinking much of the matter. 
I was still curious.
With only the name Samuel Fortunato to go off of, I began questioning my own family. Through a series of texts between my aunt and my mother I dug a little deeper into the roots of our family's tree. 
"Why don't you call your grandmother- she remembers everything about everyone," my aunt texted. She was right. My grandmother's memory was that of an elephant's, remembering the most miniscule details about even close family friends 30 plus years ago. Meanwhile, I couldn't remember what I had for breakfast or how I got dressed most mornings. 
I put it off for a few days, thinking I could get what I needed the way Michael's mother did it on Ancestry.com. Those little leaves that signified links and hints to the past only got me so far- I needed my grandmother to fill in some of the holes that the website couldn't fill.
I finally picked up the phone.
I asked her if she knew a Samuel Fortunato married to Mary Cascioli. I got an immediate confirmation. "That's your grandfather's aunt and uncle."
"Are you sure?" I listed off the names of Mary and Samuel's children.
"Yes, hon. Those are all his cousins too." She even had fond memories of some of them.
My grandmother then began to ponder on Michael's last name. "Mei... you know, does your co-worker know if he is related to a Roberto Mei? He owns a cafe in Sarasota. We went there for our anniversaries."
Yes, Michael knew Roberto Mei. Roberto is Michael's father.
The next steps were to sit down with my grandfather. This year has been especially rough for him. He has outlived all of his family and friends and his motto at 92 is "Getting old ain't for sissies." In a constant battle to keep him sharp my family will play poker with him and ask him to recount some of his fondest memories and stories which always reignites him. I thought what better chance to sit down with him but to discuss our newly found branch of our family tree.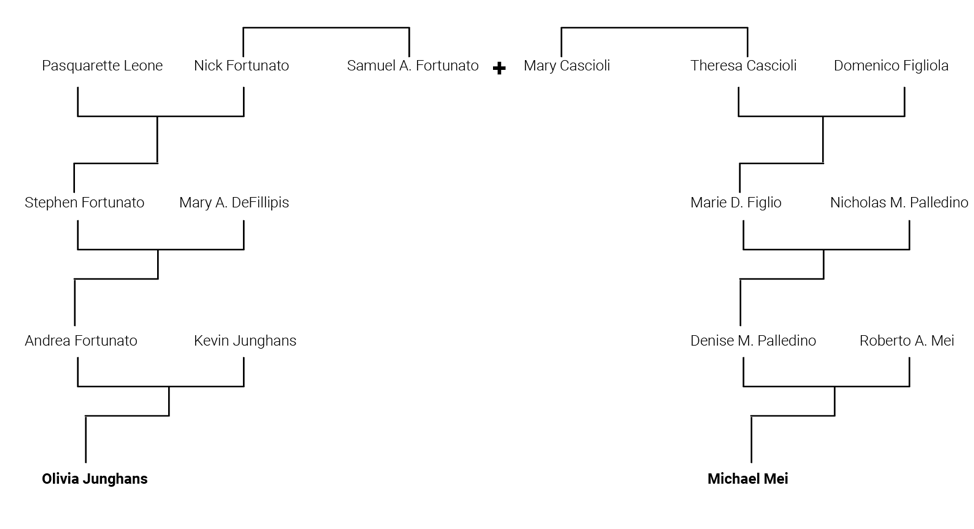 While it isn't as thrilling as finding a long lost brother or first cousin and we were only related through marriage, it was still exciting to find that we shared close branches on our family tree. Although Michael and I weren't related through blood our families knew each other. My grandfather grew up with Michael's grandmother, having even gone to the same high school and graduated together. When my grandparents moved down to Florida one of the first things they did was call Michael's family asking if his grandmother had made it down to Florida yet. 
atLarge already felt like family, but it took on an entirely different meaning after this event. Not only did I find that Michael and I were of some relation, I also learned more about my own family- even though we're always in each other's business. But best of all, it gave me a chance to sit down with my grandfather, probably for the last time,  and allow him to relive some of his fondest memories with me. That was the ultimate gift of this search.